Origin and structure of the Graduate Centre
The qualification of and support for junior researchers and academic staff are fundamental tasks of a university.
The University of Vechta has established a Graduate Centre in 2019 in order to meet the constantly evolving requirements for supporting junior researchers and for staff development and to offer its members and affiliates the best possible career conditions. With the establishment of the Graduate Centre as an inter-faculty, central institution, the University of Vechta is implementing aspects of its target agreement with the state of Lower Saxony, its University Development Plan and its human resource development concept.
The Graduate Centre is committed to pursuing this goal with the support of the executive committee, the general assembly and the administrative office.
Executive committee
The Graduate Centre is directed by an executive committee consisting of six voting members of the Graduate Centre.
Members
The Graduate Centre comprises a broad target group that meets at least once a year in a general assembly.
Goals of the Graduate Centre
In view of the guideline "Responsibility is Key", the goals of the Graduate Centre are:
providing offers for junior researchers and the entire academic staff of the University of Vechta that meet high quality standards and the Guidelines for Safeguarding Good Research Practice
enabling cooperative, inter- and transdisciplinary as well as internationally oriented qualification and support
creating favourable framework conditions for (junior) researchers at the University of Vechta and realising qualification projects
representing a forum for exchange and further qualification across faculties and disciplines
supporting individual career development within and outside the University of Vechta and academia
Services of the Graduate Centre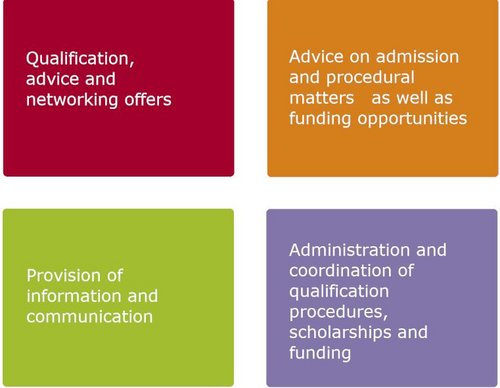 The Graduate Centre offers the following services:
development and provisionof demand-oriented interdisciplinary qualification, advice and networking offers
advice on admission and procedural matters with regard to academic qualification as well as on internal and external funding possibilities for academic projects/activities
provision of information on supporting junior researchers and academic staff
administration / coordination of qualification procedures, scholarships for supporting junior researchers and other funding acquired by the Graduate Centre
Supporting competences and cross-cutting issues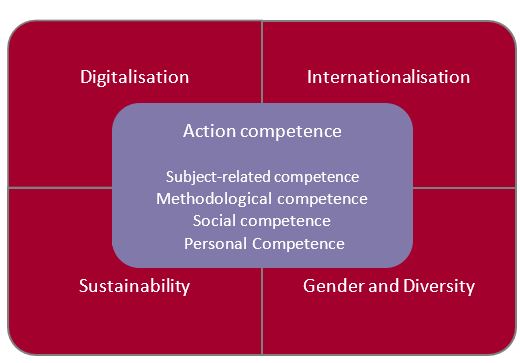 The Graduate Centre makes offers to promote the following (action) competence aspects, which are considered prerequisites for mastering challenges in a goal-oriented and responsible manner and for further developing action strategies:
Subject-related competence
Methodological competence
Social competence
Personal competence
In addition, the members are to be made aware of the following cross-cutting issues of the University of Vechta within the framework of the offers:
Digitalisation
Internationalisation
Sustainability
Gender & diversity