The Language Centre is a central institution of the University of Vechta. Our primary task is to offer a wide range of language courses. In addition, we provide writing support in English and German as well as exams for the DAAD-certificate and the TestDaF. Our offers are open to all students as well as the employees of the University of Vechta.
We are always ready and willing to hear your questions, suggestions or comments. Please feel free to contact us at info.sprachenzentrum[at]uni-vechta[dot]de. If you have any specific questions about language certificates or certain language courses, kindly contact the relevant staff member.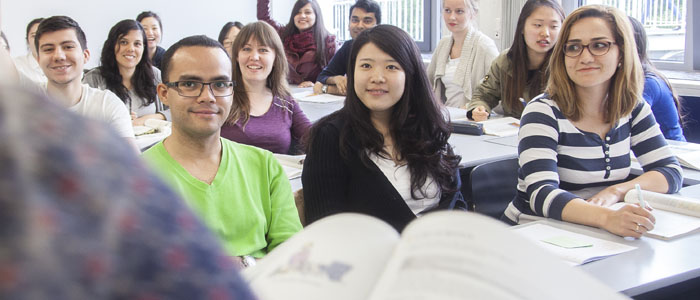 Bild: Bitters | Universität Vechta
The language center of the University of Vechta is a member of Arbeitskreis der Sprachenzentren an Hochschulen e.V. (AKS).
---
Photo credits (from top left to bottom right): Juliana Malta on Unsplash (News) | Tim Hüfner on Unsplash (Corona Info) | bitters.de für Universität Vechta (Course offerings & exam regulations) | JESHOOTS.COM on Unsplash (Online placement tests) | Mika Baumeister on Unsplash (Writing support - Concept & Contact)| İrfan Simsar on Unsplash (Writing support - Workshops) | Bettina Meckel für Universität Vechta (TestDaF) | Alexis Brown on Unsplash (DAAD Language Certificate) | Alexis Brown on Unsplash (Tandem project) |