Unless otherwise stated in the announcement, please send your application with the usual documents to the address below or by e-mail, preferably in a pdf file, to barbara.grabkowsky@trafo-agrar.de.

When applying by e-mail, please note that threats to confidentiality and unauthorized access by third parties cannot be ruled out when communicating by unencrypted e-mail.

Notes on data protection in application procedures

As we do not return your documents, please only enclose copies of your application sent to us by post. If you expressly wish to have them returned, please enclose a stamped envelope.

We will inform you about vacancies in the following:
Stellenausschreibung für eine Promotionsstelle im Bereich Bildung für nachhaltige Entwicklung / Nachhaltige Hochschulentwicklung an der Universität Vechta
An der Universität Vechta ist im Arbeitsbereich von Prof. Dr. Marco Rieckmann zu März 2023 (erst einmal befristet bis zum 31.07.2023) eine Promotionsstelle (bis zu Entgeltgruppe 13 TV-L / Teilzeit 75 %) ausgeschrieben. In diesem 5-monatigen Zeitraum soll ein Promotionsvorhaben zu einem selbstgewählten Thema in den Bereichen Bildung für nachhaltige Entwicklung und/oder Nachhaltige Hochschulentwicklung vorbereitet werden (Erstellen eines Exposés). Auf dieser Grundlage wird dann eine Verlängerung der Stelle auf insgesamt drei Jahre angestrebt.
https://karriere.uni-vechta.de/fileadmin_karriere/Public/Stellenangebote/AT_23-07-EW_FwN-Stelle_Rieckmann.pdf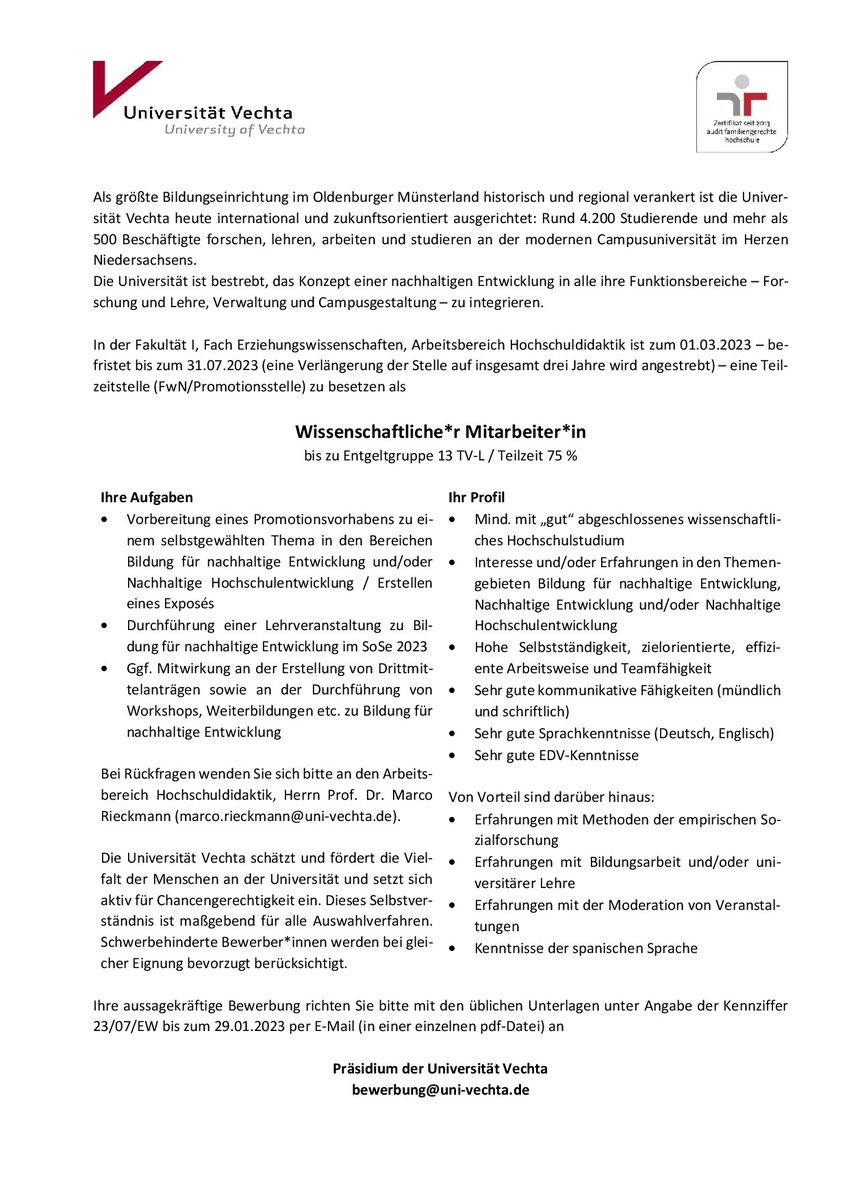 Das Fach Erziehungswissenschaften, Arbeitsbereich Hochschuldidaktik, an der Universität Vechta sucht zu März 2023 (befristet bis zum 30.11.2023) eine*n Wissenschaftliche*n Mitarbeiter*in im ERASMUS+-Projekt "SUSTAIN – Biodiversity Education for Sustainable Development" sowie für die Unterstützung des Nachhaltigkeitsprozesses der Universität (bis zu Entgeltgruppe 13 TV-L/Teilzeit 75 % bis zum 30.09.2023, danach 50 %).
Die Stellenausschreibung finden Sie hier als PDF zum Download.